The direct energy consumption of the Group concerns the use of fuels for the production of electricity and heat (cogeneration plants, thermal plants, boilers, waste-to-energy plants and landfills), and the non-renewable primary energy flows not directly associated with the production of energy (i.e. site heating, fuel for the vehicle fleet, etc.), used in carrying out its activities. Energy consumption decreased slightly compared to 2021, despite the expansion of scope of consolidation.
Indirect energy consumption refers to the electricity purchased and consumed by the Group, both for its offices and production plants. The electricity used by the energy production plants is self-generated and can be partly purchased from third parties, if the needs exceed self-generation. In 2021, indirect energy consumption is 402 GWh, equivalent to 75,250 TOE (3,149,964 GJ), an increase of 19% compared to 2020 mainly due to the expansion of the corporate scope.
In its Business Plan, the Group has set a target of 100% of electricity certified from renewable sources purchased by 2030, with intermediate targets of 2024 (90%) and 2026 (95%). To this end, at the beginning of 2021, existing contracts were renegotiated and electricity from renewable sources was purchased, certified through Guarantee of Origin (GO), covering 83% of the total purchased.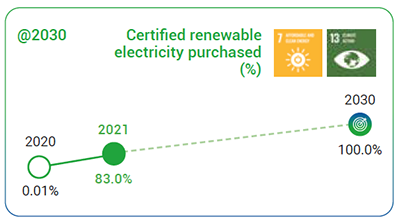 Direct energy consumption by energy source
u.m.
2021
2020
2019

Natural gas

sm3/000

1,689,348

1,723,470

1,779,273

tep

1,412,295

1,440,821

1,487,472

Diesel fuel1

 

t

62

44

36

tep

63

45

37

Biogas from landfills, treatment plants and biodigesters

 

 

sm3/000

32,152

30,443

28,399

tep

11,984

11,497

10,475

Fuel for motor vehicles

 

t

11,849

10,643

11,481

tep

12,137

10,900

11,759

Total

 

 

tep

1,436,479

1,463,262

1,509,743

GJ2

60,142,518

61,252,146

63,197,819
1 The 2021 figure shows an increase due to extraordinary maintenance at waste-to-energy plants.
2 Conversion to GJ is done using the conversion factor 1 TOE = 41.868 GJ.